When we first decided to create Mia, we set out certain criteria, all of which we successfully met – see Figure 2 below. The end result is a platform that is affordable, scalable, easy to use, flexible, secure and can be easily integrated with new devices. Mia is uniquely positioned to manage all 'things' that a home or a building might have or need, with one and only one unified app. As long as a device can be managed, Mia will manage it, regardless of whether you use standard or smart light bulbs, or a legacy or smart air-conditioning system. More importantly, our intelligent built-in algorithms enable Mia to become your most valuable assistant, providing intelligence at your fingertips.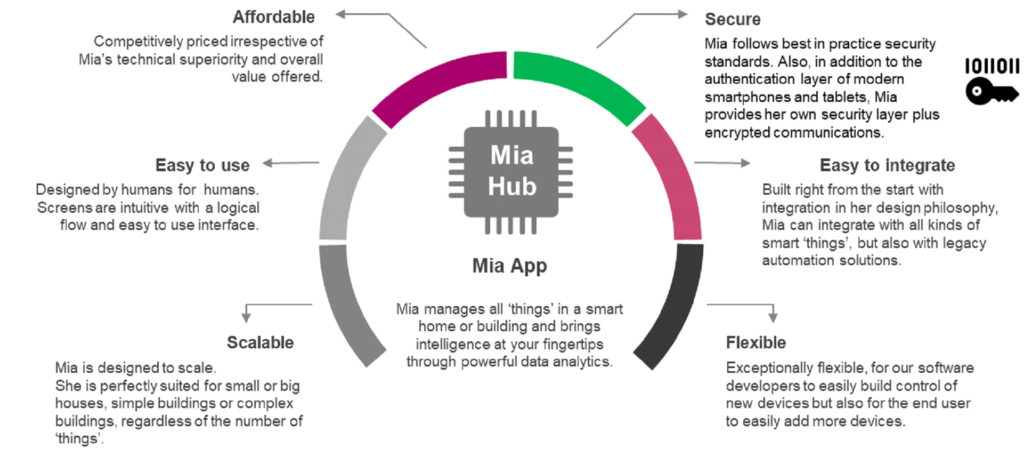 Affordable
Mia is priced competitively…
We built Mia to be used by anyone and everyone, designing it to be accessible for all, rather than just the selected few. As such, we decided to be bold and make the price point affordable, despite the outstanding value Mia offers. Anyone considering intelligent building automation will find our solution to be a competitive proposition, be that on price or technical superiority; hopefully both! So, if you are looking for a smart platform to automate your home or building intelligently, then please contact us and we promise to offer the perfect solution for you!
Scalable
Mia is designed to scale…
Mia is perfectly suited for both small or big houses, and either simple or complex buildings. Regardless of the number of appliances or 'things' you have – including curtains, shutters, lights, switches, air-conditioners, heating system zones, cameras, entry door videophones, alarm systems, pool pumps, irrigation system electro valves, sensors and elevators. Regardless of whether you have a regular sauna or an infrared sauna, a precious wine cellar or a photovoltaic system, entry gates or a garage door, an AV system or a Hi-Fi system, Mia is designed to accommodate every 'thing' and even allows for expansion with capacity to add more in the future. Just let us know what you want to add and consider it done!
Easy to use
Mia is designed by humans for humans…
Simplicity is the cornerstone of our philosophy, which is reflected throughout the design of this groundbreaking solution. Mia hides the complexity of the various systems she manages, so the user does not need to be a rocket scientist to use the app. The screens are all well thought out, with a logical flow and an easy-to-use interface that intuitively guides the user. This is the result of our extensive experience in software application development for self-service devices, which is second to none and we are proud to bring to Mia.
Flexible
Mia offers exceptional flexibility…
Mia offers flexibility for our software developers to easily build control of new devices, while at the same time making it easy for the end user to add more devices. Mia can run on a tablet or a smartphone. She can control smart devices, but also legacy devices, and can activate or deactivate 'things'. Not only that, but more importantly Mia can also provide vital information about the usage of a device. For instance, how many hours a lightbulb was used, or how many kilowatt hours a pool pump has consumed. In fact, we are constantly improving the functionality of Mia and we can only promise to amaze you if you decide to take a ride with us. If you can find any new functionality that we have not thought of setting out to build, simply let us know and consider it done!
Secure
Mia is secure…
Mia follows best in practice standards when it comes to security. Over and above the optional authentication layer of modern smartphones and tablets, Mia provides her own security layer by asking the user to create an account with a unique username and password. Similarly, the administrator needs to have a separate account with a unique username and password. Also, the communication between the base server (hub) of Mia and the various 'things' that are set to be controlled is encrypted, thus making eavesdropping impossible.
Easy to integrate
Mia offers numerous integration possibilities…
Right from the start, Mia has been built with integration in her design philosophy. The app can integrate with all kinds of 'things', be that through Wi-Fi, Bluetooth, the cloud, the latest IoT based protocols (ZigBee, Z-Wave, etc.), or even through hard core application interface programming. Mia can also be integrated with legacy automation systems such as KNX and Loxone, to name a few. Also, she readily supports Amazon's Alexa. Last but not least, our proven, best in class systems integration capabilities and extensive programming knowledge come in handy to complement Mia and guarantee success for any project of any size and any complexity.