One app to manage them all
---
The advent of the Internet of Things (IoT), together with the subsequent technological progress that followed and the challenges that came with it, inspired us over at ManageThings Ltd to create the ManageThings Intelligent Assistant (Mia).
In short, Mia is a powerful application platform designed to automate buildings and homes regardless of size or complexity. Mia takes advantage of the latest IoT technologies and aims to improve everyday living. Simply put, Mia becomes your intelligent assistant, loaded on your smartphone or tablet(s) to manage key appliances such as your coffee machine, security access systems, switches and lighting, power plugs, air conditioners and heaters, motorized blinds and shutters as well as numerous other 'things' typically available in our modern lives – see Figure 1 below.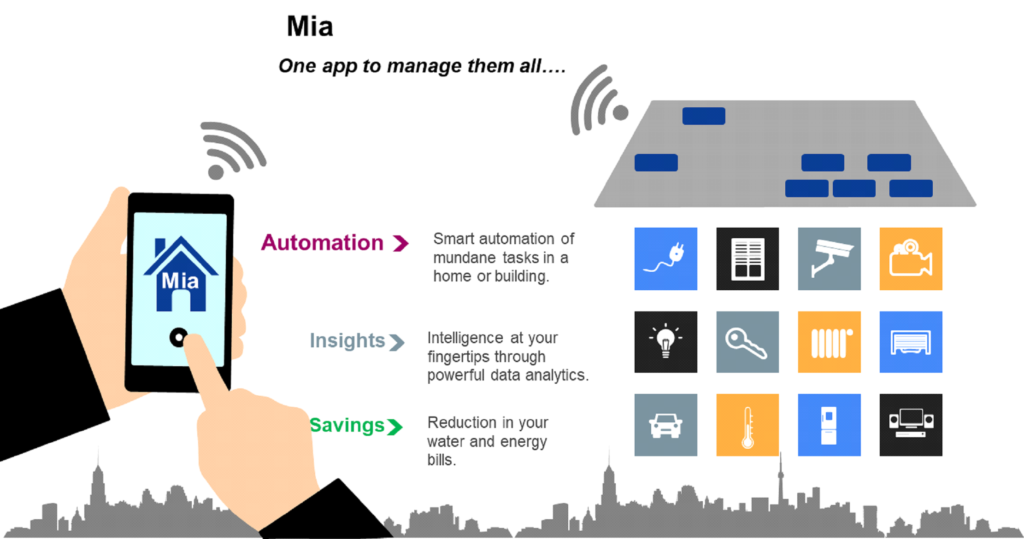 Unlike any other home automation solution, Mia goes beyond smart automation. She automates numerous mundane daily tasks that modern day living requires of us, while at the same time providing powerful insights and intelligence at your fingertips through robust data analytics.
In particular, Mia allows the user to keep track of the service history of home appliances. The app also stores data related to power consumption and other important stats, as well as providing comparative reports and creating alerts or notifications when something unusual occurs; for example, when the power consumption of a 'thing' gets out of control. Such insights can allow the user to better manage energy bills or take proactive action to service various appliances rather than waiting for them to completely break down. Similarly, Mia can intelligently manage your watering system, thus contributing to significant savings on your water bill as well.